Spiced Date and Almond Cake with Yoghurt, Orange and Figs
Prep: 40 mins
Cook: 50 mins
Servings: 12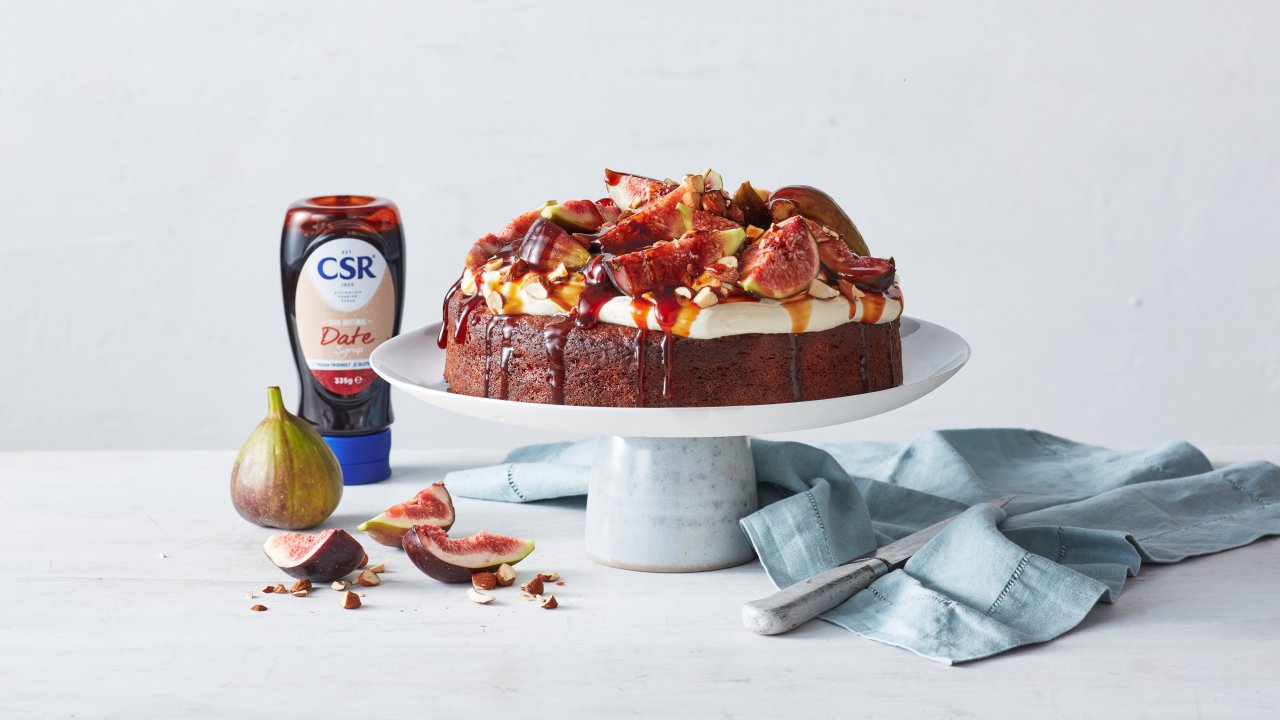 This mouth-watering crumbly cake is the ultimate dessert to impress friends and family!
The rich flavours of the figs, date syrup and yoghurt combine to create the perfect finish on an already delicious cake.
Ingredients
200g pitted fresh dates
1 tsp baking soda
375g thick Greek yoghurt                                                                   
160g CSR Date Syrup
135g CSR Brown Sugar
125g unsalted butter, melted
3 eggs, room temperature
Finely grated zest and juice of 1 large orange
1 cup (150g) White Wings Self-Raising Flour, sifted
110g almond meal
2 tsp ground ginger
1 tsp ground cinnamon
½ tsp sea salt flakes
200ml sour cream
Fresh figs, quartered, to serve
Coarsely chopped roasted almonds, to serve
Method
1. Preheat oven to 160C fan-forced or 180C conventional. Grease and line a 22cm round cake tin with baking paper.
2. Place dates and bi carb soda in a small heatproof bowl. Pour over ½ cup (125ml) boiling water, cover with a plate and set aside for 15 minutes to soften.
3. Transfer date mixture to a food processor and process, scraping down the sides, until smooth. Add 250g yoghurt, 80g syrup, 80g sugar, butter, eggs and orange zest and process until combined. Transfer to a large bowl. Add flour, almond meal, spices and salt, then whisk until batter is smooth and combined. Spoon mixture into the prepared tin, smooth top and bake for 50 minutes until golden and centre springs bake when gently pressed. Cool in tin for 15 minutes then invert onto a wire rack to cool completely.
4. Combine remaining 80g date syrup and orange juice in a small saucepan. Place over low heat and cook, stirring, for 2 minutes until combined. Remove from heat and refrigerate to cool.
5. Whisk the sour cream, remaining 125g yoghurt and remaining 55g (¼ cup) brown sugar in a bowl until soft peaks form. Refrigerate until ready to serve.
6. Transfer the cake to a serving platter. Spread with the sweetened yoghurt, top with figs, scatter with almonds and drizzle with CSR Date Syrup. Cut into slices to serve.
NOTE: Store the un-iced cake in an airtight container for up to 5 days.