Lemon Meringue Tart
Prep: 50 mins
Cook: 45 mins
Servings: 6-8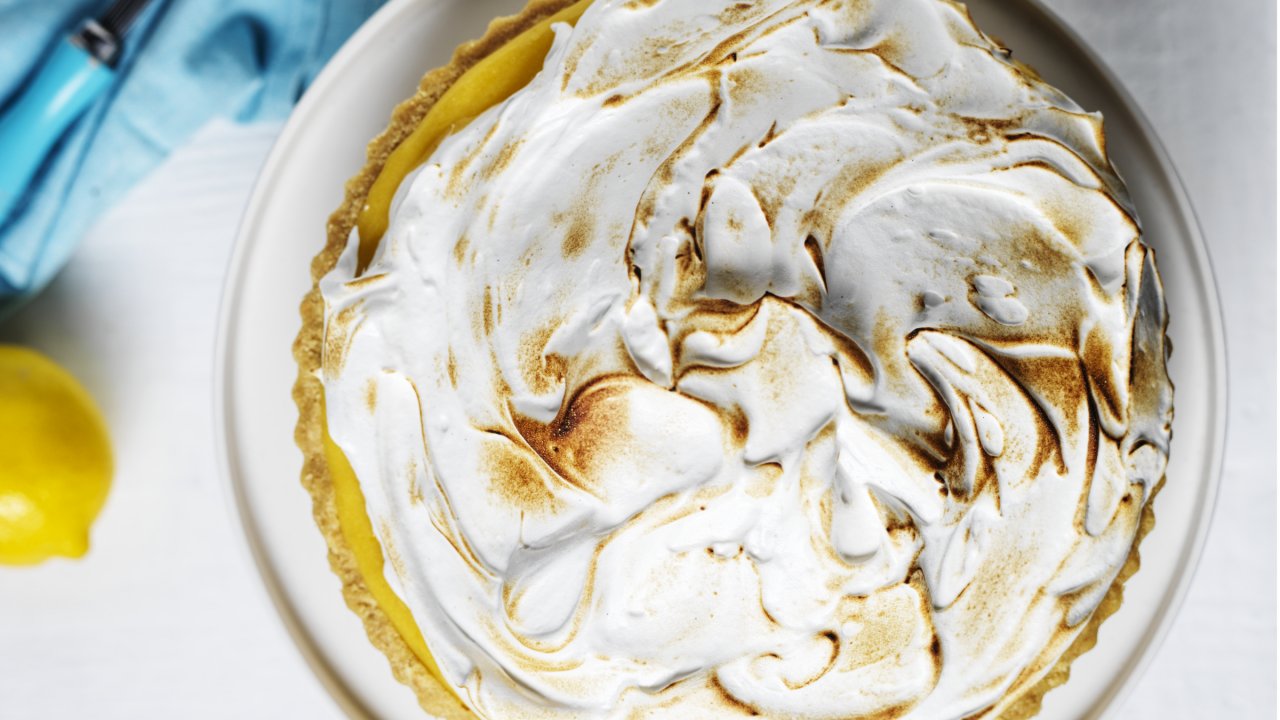 Become Master of Meringue and impress with this homemade Lemon Meringue Tart that is impossible to resist.
So light and zesty, topped with toasted meringue you won't turn up to an event without it! 
Ingredients
For the tart base:
350g scotch finger biscuits (broken into small pieces)
1/4 cup CSR caster sugar
125g unsalted butter
For the lemon curd:
8 egg yolks
6 tbsp White Wings Cornflour
375g CSR Caster Sugar
3 lemons zested and juiced
100ml water
125g unsalted butter diced
1/2 tsp salt
For the meringue:
1 and 1/4 cup CSR Caster Sugar
1/3 cup of water
5 egg whites (reserved from the lemon curd mix)
1/4 tsp cream of tartar
1 tbsp vanilla extract
1/4 tsp salt
Method
Tart Base Method:
To make the tart base, add the biscuits, caster sugar and butter to a food processor and blitz until the consistency of wet sand.
Push the biscuit mix into a 24 cm tart tin and flatten with the back of a spoon.
For the lemon curd, whisk together the sugar, lemon juice, zest, water, salt and corn flour in a small saucepan, then set aside.
Separate the eggs into a bowl and keep the whites aside for the meringue.
Whisk the yolks for 1 minute and set aside.
Place the saucepan with the lemon mix onto a medium heat and whisk continuously until it thickens. Allow the mixture to cook on a low heat for 3-5 minutes, then turn off the heat.
Add 1/4 of the hot lemon mix to the egg yolks and carefully mix, before pouring into the remaining lemon mixture.
Continue mixing on a medium to low heat for 2 minutes and then remove from the heat
Whisk for 2 minutes then add the unsalted butter, continue whisking until all the butter is incorporated and the mixture is silky.
Fill the tart shell with the lemon mix, smooth out the top and refrigerate until cold.
Meringue Method:
For the meringue, beat the egg whites, 1/4 cup of sugar and the salt in an electric mixer until soft peaks form.
Meanwhile, add 1 cup of sugar and 1/3 cup of water to a small saucepan over medium heat until completely dissolved.
When the whites have just reached their soft peaks, immediately add the heated sugar mix slowly and keep mixing for approx. 5 minutes.
Add the vanilla extract and mix until combined.
Top the lemon tart with the Italian meringue and lightly brown/torch with a blowtorch or under the grill.