Dark Chocolate and Hazelnut Wreath with Spiced Cherries
Prep: 35 mins, plus proving and chilling
Cook: 55 mins
Servings: 8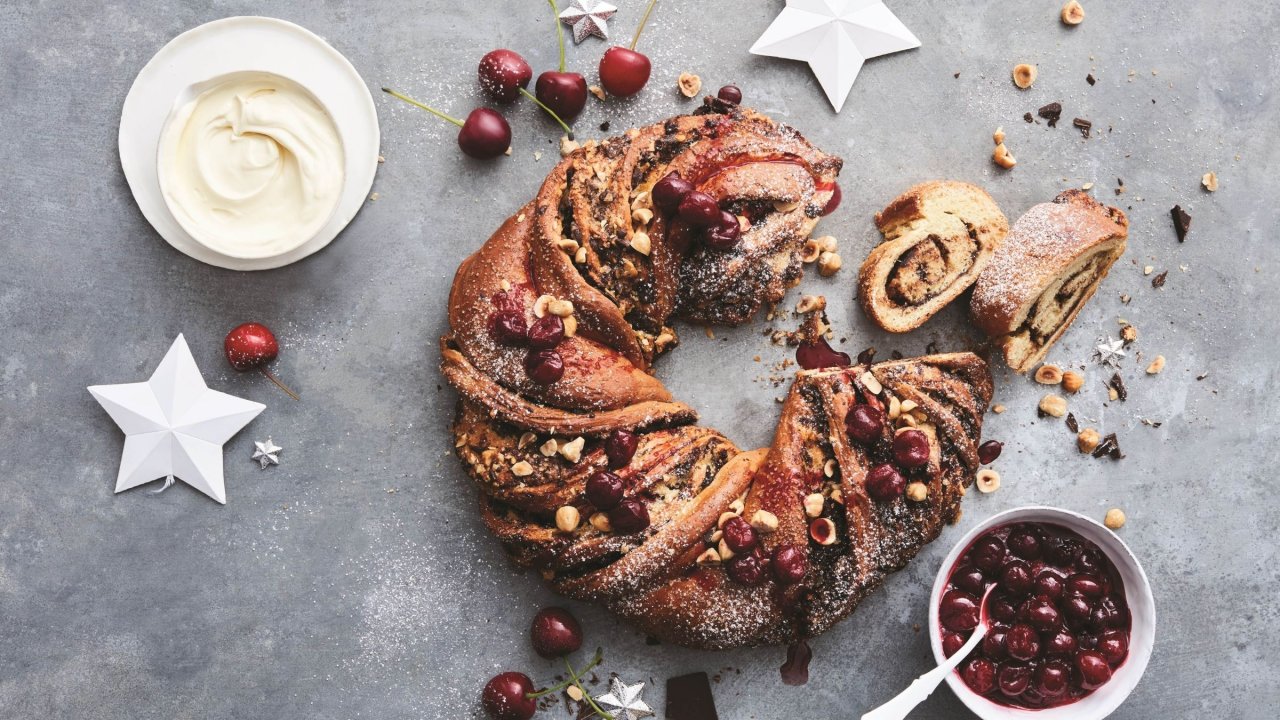 A sensational centre piece at any table this Christmas. This Dark Chocolate and Hazelnut Wreath with Spiced Cherries is a tear and share festive treat that your family and guests will love!
Ingredients
Wreath:
3 tsp (10g) dried yeast
¼ cup (55g) CSR Caster Sugar
½ cup (125ml) milk, warmed
2 egg yolks
100g unsalted butter, melted
3 1/3 cups (500g) White Wings Plain Flour, plus extra to dust
½ cup (70g) roasted peeled hazelnuts, plus extra chopped to serve
70g dark chocolate, chopped
80g unsalted butter, softened
½ cup (110g) CSR Demerara Sugar
1 tbs finely grated orange rind
1 tsp mixed spice
To serve: icing sugar and double cream
Poached Cherries:
300g fresh pitted cherries
165g CSR Caster Sugar
Zest and juice of 1 orange
Zest and juice of ½ lemon
Method
For spiced cherries, stir cherries, sugar, citrus rind and juices in a medium saucepan until sugar dissolves. Simmer for 5 minutes. Remove from heat; refrigerate to chill.   
Combine yeast, half caster sugar and milk in a large bowl. Stand in a warm place for 10 minutes. Add egg yolks, butter, ¾ cup warm water, flour, ½ tsp salt and remaining sugar. Stir until combined. Transfer dough to a lightly floured surface, knead for 10 minutes or until smooth and elastic.
Roll dough out on a lightly floured baking paper to a 45cm x 25cm rectangle and place it on a prepared tray. Cover with plastic wrap and refrigerate for 1 h to firm.
Preheat oven to 200C. Grease a large, flat oven tray. Process hazelnut and chocolate in a food processor until finely chopped.
Combine butter, 1/3 cup demerara sugar, orange rind and mixed spice in a small bowl.  Spread butter over dough, leaving a 1cm border. Top with choc-hazelnut mixture and gently press into butter. Firmly roll dough up from one long side, using baking paper as a guide. Trim ends, then cut dough in half lengthwise. Turn halves, cut-side down on baking paper, then twist together. Form twisted lengths into a ring, pressing the two ends together to join.
Transfer ring carefully onto oven tray. Brush with egg wash and scatter with extra Demerara sugar. Bake for 10 minutes. Reduce oven to 180C, bake for a further 30 minutes or until golden. Transfer to a wire rack to cool.
Serve dusted with icing sugar and top with extra chopped hazelnuts, spiced cherries and double cream.