Crunchy Coconut Granola Bars
Prep: 15
Cook: 25
Servings: 10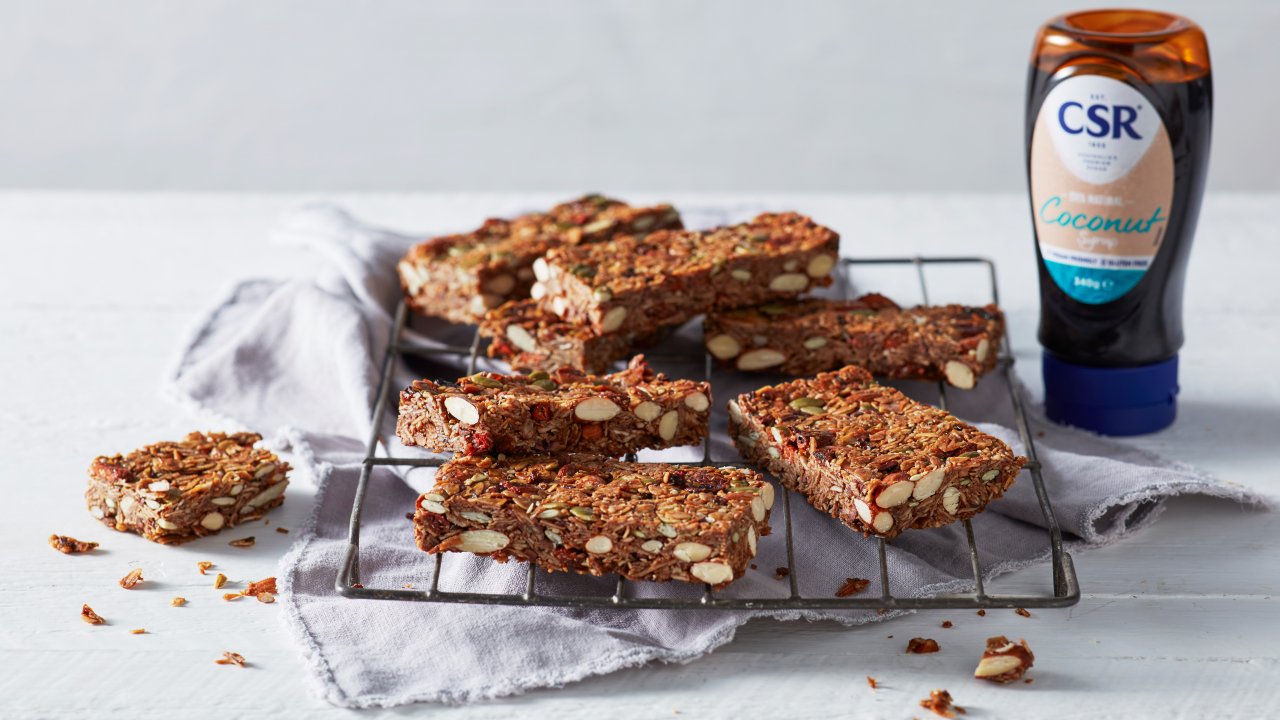 Crunchy and tasty, these Coconut Granola Bars are a delightful snack for any time of the day!
Bake in a pan and then cut into as many bars as you desire and in whatever shape or size you like.
Ingredients
2 cups (180g) rolled oats
½ cup (70g) natural almonds
½ cup (25g) flaked coconut
¼ cup (30g) goji berries
¼ cup (40g) hemp seeds
¼ cup (40g) pepitas
2 tbs cacao nibs
1/3 cup (110g) CSR Coconut Syrup
¼ cup (50g) virgin coconut oil
¼ cup (55g) CSR Coconut Sugar
½ tsp ground cinnamon
Finely grate zest of 1 orange (optional)
Method
Preheat oven to 160C, fan-forced or 180C conventional. Grease and line a 20cm square cake pan with baking paper, allowing the sides to overhang.
Combine oats, almonds, coconut, pepitas, goji berries and cacao nibs in large bowl.
Place coconut syrup, coconut oil, coconut sugar, cinnamon and orange zest in small saucepan over low heat. Cook, stirring, for 2 minutes until melted and combined.
Add syrup mixture to the bowl with oats and stir until well coated. Spoon into prepared tin and press gently with the back of a spoon.
Bake for 20-25 minutes until golden. Cool completely in tin. Using a serrated knife cut into 10 bars.
Note: This recipe is very versatile and can easily be altered to suit your palate. Feel free to change the dried fruit, nuts and seeds, just ensure to keep the ratios the same.