Chocolate Raspberry Kisses
Prep: 50 mins
Cook: 10 mins
Servings: 20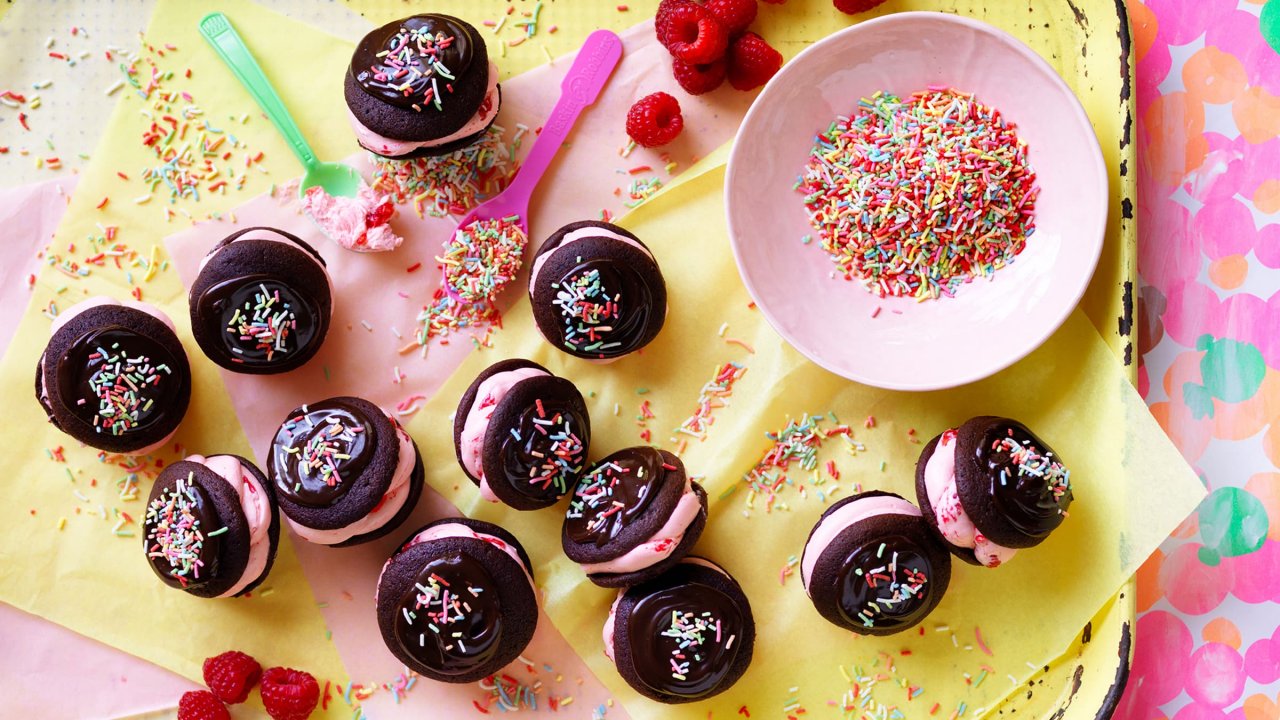 Kisses that taste of Chocolate and Raspberry! This treat is a fun recipe to bake on the weekend and enjoy with the whole family.
Ingredients
Chocolate Cake Mix:
Raspberry Butter Cream:
250g unsalted butter, softened
3 cups (480g) CSR Soft Icing Mixture
1 tbsp milk
pink food colouring
10 fresh raspberries (45g), crushed
Chocolate Ganache:
¼ cup (60ml) pouring cream
150g dark chocolate, chopped finely
2 tbsp rainbow sprinkles for decoration
Method
Preheat oven to 200°C. Grease oven trays; line with baking paper.
Beat butter, sugar and egg in a small bowl with an electric mixer until light and creamy. Beat in sifted dry ingredients and buttermilk, on low speed, until mixture is smooth.
Drop scant tablespoons of mixture about 5cm apart onto trays. Bake cakes about 10 minutes. Cool on trays.
Make the raspberry butter cream by beating butter in a small bowl with electric mixer until light and creamy. Beat in sifted icing sugar and milk. Tint pink with colouring; stir in raspberries.
To make the chocolate ganache, bring cream to the boil in a small saucepan. Remove from heat; stir in chocolate until smooth.
Spoon butter cream into a piping bag fitted with a 2cm fluted tube. Pipe butter cream on the flat side of half the cooled cakes.
Spread ganache over rounded side of remaining cooled cakes. Place on top of butter cream. Sprinkle with rainbow sprinkles.
If you are wanting to bake-ahead, unfilled cakes can be frozen for up to 2 months. Kisses, once filled, should be served within several hours.