Caramel Popcorn Cupcakes
Prep: 20 mins
Cook: 25 mins
Servings: 10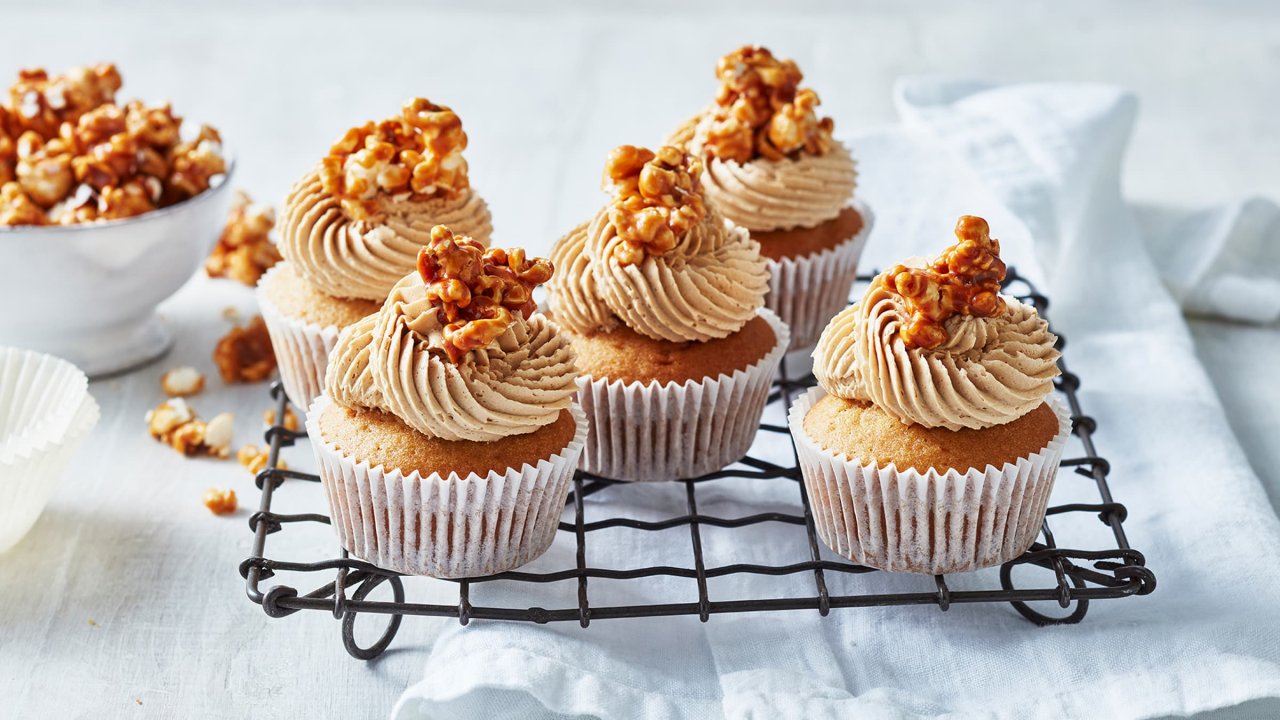 These Caramel Popcorn Cupcakes are a caramel lover's dream.
It starts with a soft white chocolate cupcake base and topped with butterscotch buttercream with a crunch of caramel popcorn.
Ingredients
125ml (½ cup) milk
75g (⅓ cup) CSR Brown Sugar
100g white chocolate, coarsely chopped
75g unsalted butter, chopped
80ml (⅓ cup) buttermilk, well shaken
1 egg
150g (1 cup) White Wings Plain Flour
½ tsp bicarb soda
1 packet CSR Butterscotch Buttercream Icing Mixture
Caramel Popcorn:
60g butter
55g CSR Caster Sugar
30g maple syrup
½ tsp sea salt
2 cups popcorn
Method
Preheat oven to 160°C, fan-forced. Line ten 1/3 cup (80mL) muffin pans with patty cases. Combine milk, sugar, chocolate and butter in a medium saucepan and place over medium heat. Cook, stirring occasionally, for 2 mins until melted and combined.
Remove from the heat, cool slightly then whisk in the buttermilk and egg. Transfer to a large bowl, sift in the flour and bicarb, then whisk until smooth. Transfer to a large jug.
Pour mixture evenly among patty cases. Bake for 20 mins or until cooked through. Remove from oven and transfer to a wire rack to cool completely.
For caramel popcorn, combine butter, sugar and maple syrup in a medium saucepan over medium-high heat. Stir until sugar dissolves and then cook for 3-4 mins until caramelised. Add the popped popcorn and salt and stir to coat. Spread out over a baking tray lined with baking paper to cool.
Prepare CSR Butterscotch Buttercream as directed. Transfer buttercream to a piping bag fitted with a 1cm star nozzle. Pipe on top of cupcakes. Decorate with caramel popcorn to serve.