Vegan Caramel Chocolate Tart
Prep: 30 mins
Cook: 15 mins
Servings: 12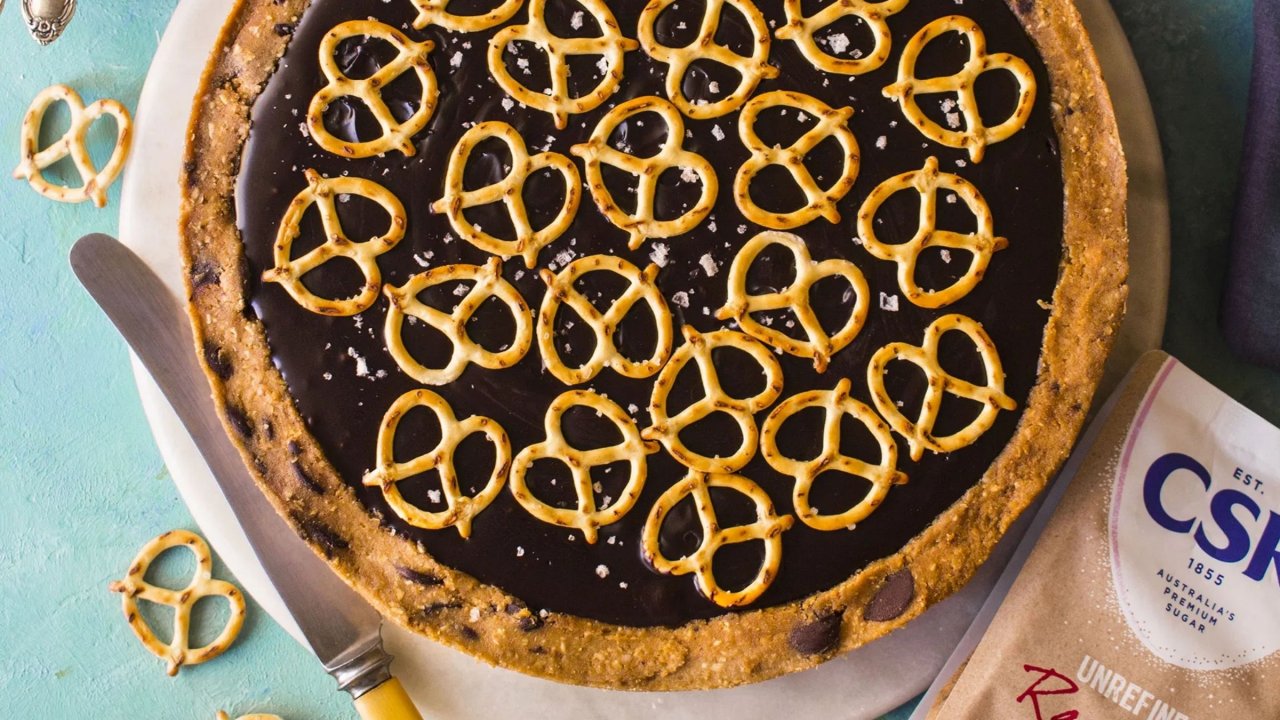 We've collaborated with Rainbow Nourishment to create this layered Vegan Caramel Chocolate Tart. With a delicious cookie dough tart base, caramel filling and chocolate top, you'll be in vegan dessert heaven. The balance of salty and sweet will make it hard to resist a second slice.
Ingredients
Cookie Dough Base:
1 cup (120g) rolled oats
1 heaped cup (250g) chickpeas or butter beans, cooked (or whatever amount you can get from a 400g can of chickpeas)
¾ cup (190g) nut or seed butter
½ cup (120ml) refined or unrefined coconut oil*, softened
½ cup (80g) CSR Rapadura Sugar
1 tbsp vanilla extract
Generous pinch of salt
Plant-based milk or water, if needed
2 cups (200g) roughly chopped vegan chocolate
Caramel:
2 cups (320g) CSR Rapadura Sugar
1 cup (240ml) canned coconut cream**
1 cup (240g) refined or unrefined coconut oil*
¼ cup (55g) vegan butter
Topping:
3 cups (300g) roughly chopped vegan chocolate
½ cup (120ml) canned coconut cream**
Pretzels and flaked salt, if desired
Method
Line a 25 cm loose-bottom or spring-form cake tin with baking paper.
To make the base, add the rolled oats to a food processor and process for 3 mins or until it forms fine crumbs. Add the chickpeas/butter beans, nut/seed butter, sugar, oil, vanilla, and salt and process until it forms a paste. If the mixture is dry, add a little milk or water then process until it forms a fudgy consistency. Remove the blade from the food processor and mix in the chocolate until evenly distributed.
Scoop the cookie dough into the cake tin. Use a spatula to press the mixture against the bottom and sides of the tin, allowing the crust to be 1.5 cm thick. If desired, use wet hands to smooth the surface
To make the caramel, add sugar and coconut cream to a medium-size pot. Bring to a simmer over medium heat for 10-15 mins or until thickened. Remove the pot from the heat and add the coconut oil and butter to the caramel. Mix until all ingredients are combined and emulsified.***
Allow the caramel to cool slightly. Pour the caramel into the cookie dough crust and place it in the fridge for around 2 hrs or until fully set.
To make the topping, add chocolate and coconut cream to a medium-size pot. Over low heat, mix the ingredients until they are fully melted and combined. Pour the chocolate over the set caramel filling. Top with pretzels and flaky salt if desired. Place the tart in the fridge for 30 mins or until set. When the chocolate is firm, serve as desired.
The tart can be stored in an airtight container at room temperature for 1 day, in the fridge for up to 5 days or in the freezer for up to one month.
*Use refined coconut oil if you don't want a coconut taste. If you don't mind the taste of coconut, use unrefined coconut oil. **Purchase a coconut cream which has no emulsifiers in it. Only use the thick part of the coconut cream which has floated to the top of the can. If you are unable to find a coconut cream without emulsifiers, your caramel may not set or you may need to simmer the caramel for longer. ***If your caramel has separated or is not emulsifying, add a dollop of nut/seed butter and use a stick blender to emulsify the mixture.