Peanut Heaven Cupcakes
Prep: 10 mins
Cook: 50 mins (+ refrigeration)
Servings: 12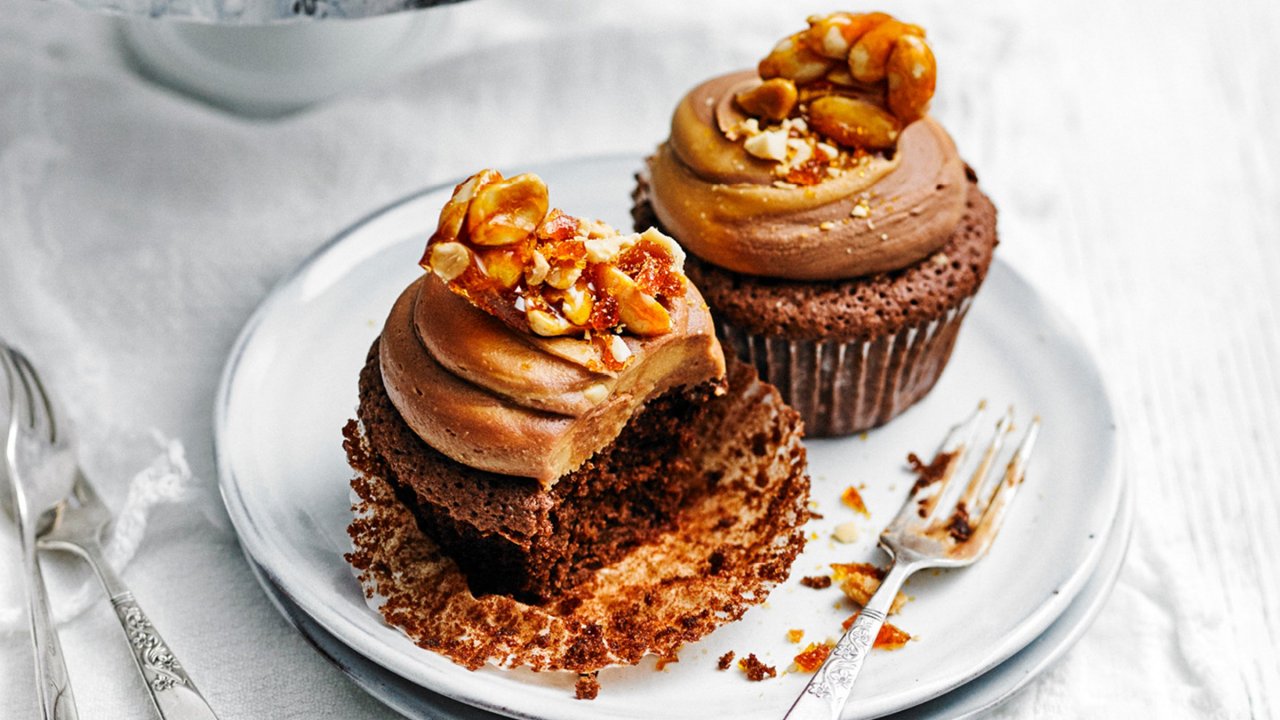 You'll be in food bliss with these Peanut Heaven Cupcakes. A a delicious blend of chocolate and peanut butter tastes, coming together to create a tasty dessert.
Ingredients
Cupcakes:
60g (2oz) dark (semi-sweet) chocolate, chopped coarsely 
⅔ cup (160ml) water 
90g (3oz) butter, softened 
1 cup (220g) firmly packed CSR Brown Sugar
2 eggs 
⅔ cup (100g) White Wings Self Raising Flour
2 tablespoons cocoa powder 
⅓ cup (40g) almond meal 
250g (8oz) peanut brittle, chopped coarsely 
whipped milk 
Choc Peanut Frosting: 
1 cup (250ml) pouring cream 
400g (12½oz) milk chocolate, chopped coarsely 
1 cup (280g) smooth peanut butter
Method
Preheat oven to 170°C/340°F. Line a 12-hole (⅓ cup/80ml) muffin pan with paper cases. 
Stir chocolate and the water in a small saucepan over low heat until smooth. 
Beat butter, sugar and eggs in a small bowl with an electric mixer until pale and fluffy. Stir in sifted flour and cocoa, almond meal and warm chocolate mixture. Spoon mixture into paper cases. 
Bake cupcakes for 25 minutes or until a skewer inserted into the centre comes out with moist crumbs attached. Leave cakes in pan for 5 minutes before turning, top-side up, onto a wire rack to cool. 
Make whipped milk choc peanut frosting: Bring cream almost to the boil in a small saucepan; remove from heat. When bubbles subside, add chocolate; stir until smooth. Transfer mixture to a small bowl. Cover; refrigerate for 30 minutes. Beat frosting with an electric mixer until light and fluffy.
Spoon frosting into a large piping bag fitted with a plain 1.5cm (¾in) tube, alternating with spoonfuls of peanut butter to create a marble effect. 
Pipe generous swirls of frosting onto cold cakes; top with peanut brittle.
If you don't have a piping bag, spoon the frosting onto cakes and a spoonful of peanut butter; using the back of the spoon, swirl together in an upward direction.