Gingerbread Cupcakes
Prep: 30 mins
Cook: 15 mins
Servings: 12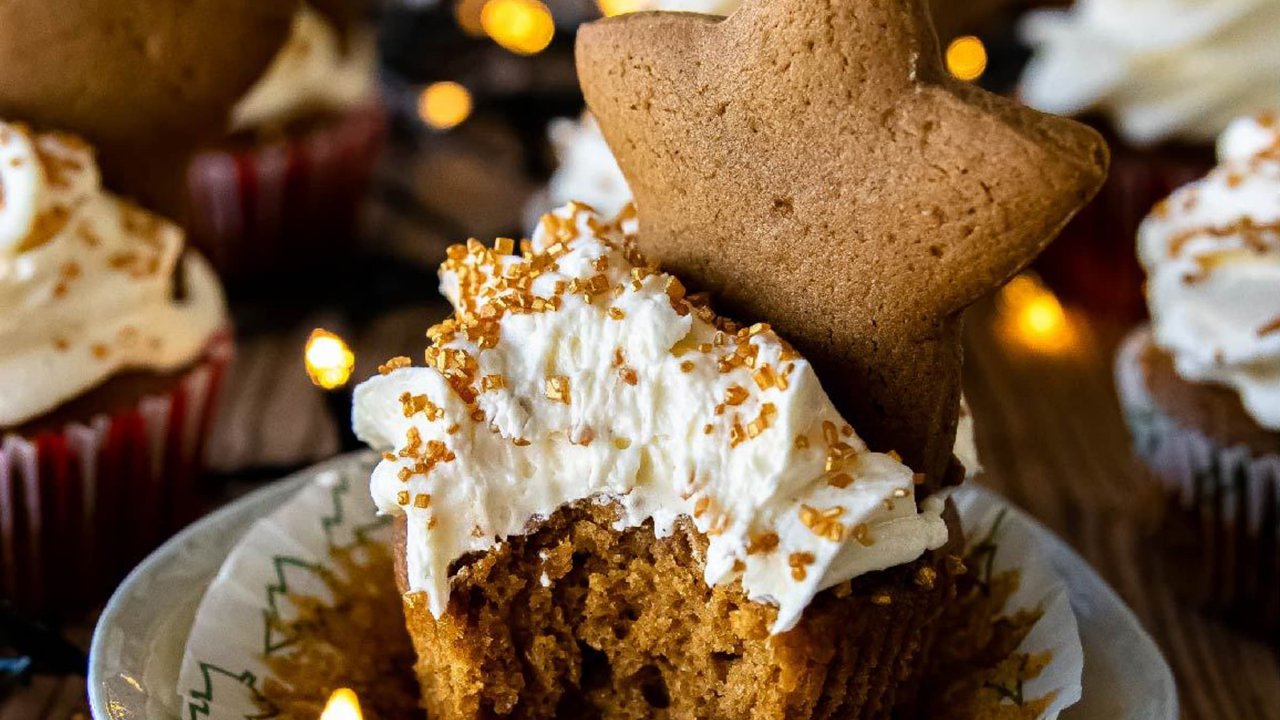 These Gingerbread Cupcakes are the epitome of Christmas cheer.  Visually they are spectacular – a caramel coloured cupcake adorned with a delicious piping of vanilla buttercream.  A gingerbread star is nestled into the buttercream and the cupcake dusted with golden sparkles…..magical!! One to get the kids in the kitchen for. Recipe by My Lovely Little Lunch Box.
Ingredients
Gingerbread Cupcakes:
1 cup (250ml) plain or Greek yoghurt
2 eggs
¾ cup (190ml) lightly flavoured olive oil
¾ cup (165g) CSR Dark Brown Sugar
½ cup (125ml) CSR Treacle
1 tbsp vanilla bean paste (or extract)
2 cups (300 grams) White Wings Plain Flour
2 tsp baking powder
1 tbsp ginger, ground
2 tsp mixed spice, ground
1 tsp cinnamon, ground
Pinch of salt
Vanilla Buttercream:
2 x 250g CSR Vanilla Buttercream Icing mixture
320g butter
6 tsp water
To Decorate:
12 store-bought gingerbread cookies
gold sprinkles
Method
To make the gingerbread cupcakes: Preheat oven to 180°C and line a 12-hole cupcake pan with paper liners. Set aside.
Place the yoghurt, eggs, olive oil, sugar, treacle and vanilla bean paste into a large bowl and whisk to combine.
Sift the flour, baking powder, ginger, mixed spice, cinnamon and salt into the bowl and whisk to combine.
Evenly divide the batter between the prepared tin and bake for 15 minutes or until a skewer inserted removes cleanly. Allow to cool for 5-10 minutes before placing the cupcakes on a wire rack to cool completely.
To make the buttercream: Using an electric mixer, beat the butter until pale and fluffy.
Gradually add buttercream icing mix and water, beating continuously until smooth, approximately 3-5 minutes. Place the buttercream into a piping bag.
To decorate: Pipe a generous swirl of buttercream onto each cupcake.
Decorate each cupcake with a gingerbread cookie and sprinkles.