Easter Spiced Chocolate Twist
Prep: 25 mins + 1.5 hours proving
Cook: 25 mins
Servings: 8-10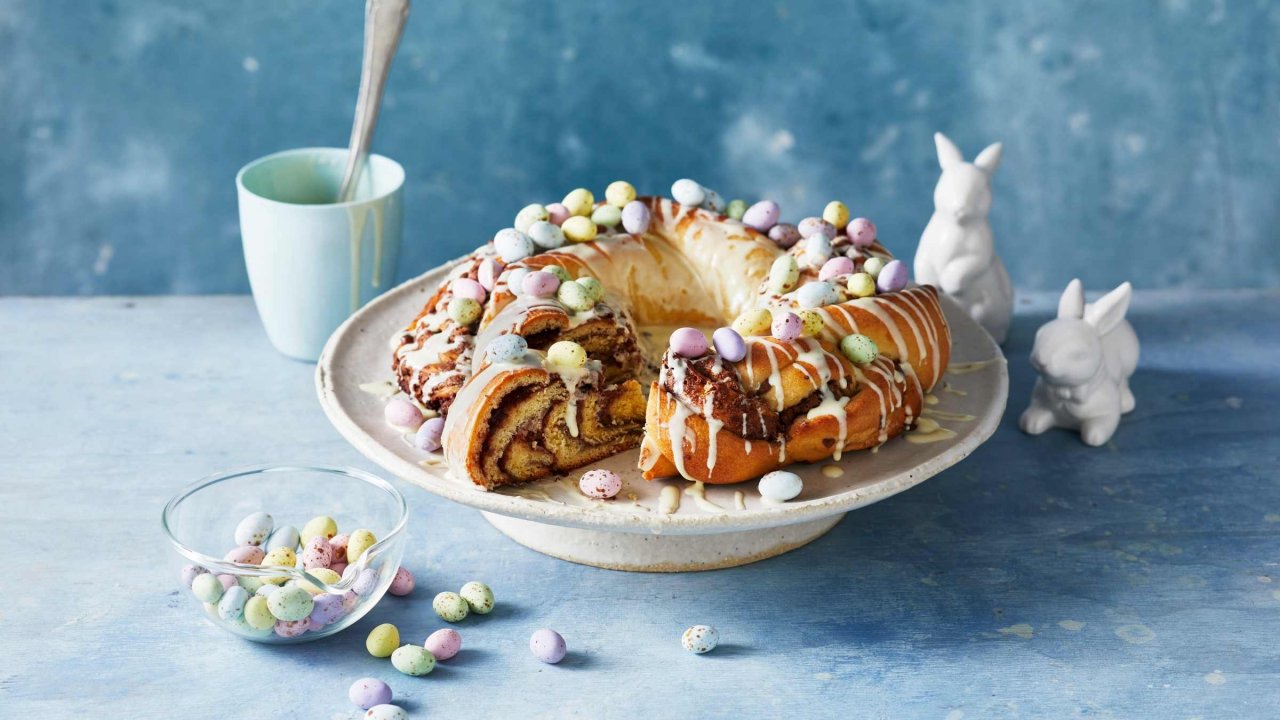 Spend some time getting stuck into dough making and creating this Easter with this beautiful Spiced Choc Twist. It's a tear and share centre piece that everyone will love!
Ingredients
110ml lukewarm milk
1/3 cup (75g) CSR Caster Sugar
2 tsp (1 sachet/ 7g) dried yeast
80g melted butter
1 egg
1 egg yolk
2 ¼ cups (350g) White Wings Plain Wholemeal Flour
1 tsp salt
100g milk chocolate, finely chopped
Melted white chocolate & Mini speckled easter eggs, to decorate
Spiced butter
40g softened unsalted butter
2 tbs CSR Caster Sugar
2 tsp ground cinnamon
½ tsp mixed spice
Finely grated zest of 1 orange
Method
Combine milk, 2 tsp caster sugar and yeast in a small bowl. Set aside for 5 minutes until frothy. Add the butter, egg, egg yolk and whisk to combine. Combine flour, salt, and remaining sugar in a large bowl; add the milk mixture and stir until a wet dough forms.
Turn dough out onto a lightly floured surface and knead for 8 minutes until smooth and elastic. Place in a lightly greased bowl, cover with cling wrap and set aside in a warm place for 1 hour to prove.
Meanwhile, for spiced butter, combine all ingredients in a small bowl.
Preheat oven to 200C (180C fan-forced). Roll the dough between two sheets of baking paper to a 40cm x 25cm rectangle. Spread the cinnamon butter evenly over the dough, then scatter with milk chocolate, lightly pressing down to adhere. Starting with one long side, tightly roll the dough to enclose the filling. Chill for 10 minutes to firm.  
Using a serrated knife, trim ends, then cut dough in half lengthwise, then twist together. Form twisted lengths into a ring, pressing the two ends together to join. Transfer ring carefully onto oven tray.  Loosely cover with cling wrap and set aside in a warm place for 30 minutes to prove.
Bake for 10 minutes. Reduce oven 180C (160C fan-forced). Bake for 10-15 minutes until golden. Transfer to a wire rack to cool.
Drizzle chocolate twist with melted white chocolate and scatter with speckled eggs to serve.