Cupcakes with Toffee Crunch
Prep: 15 mins
Cook: 25 mins
Servings: 12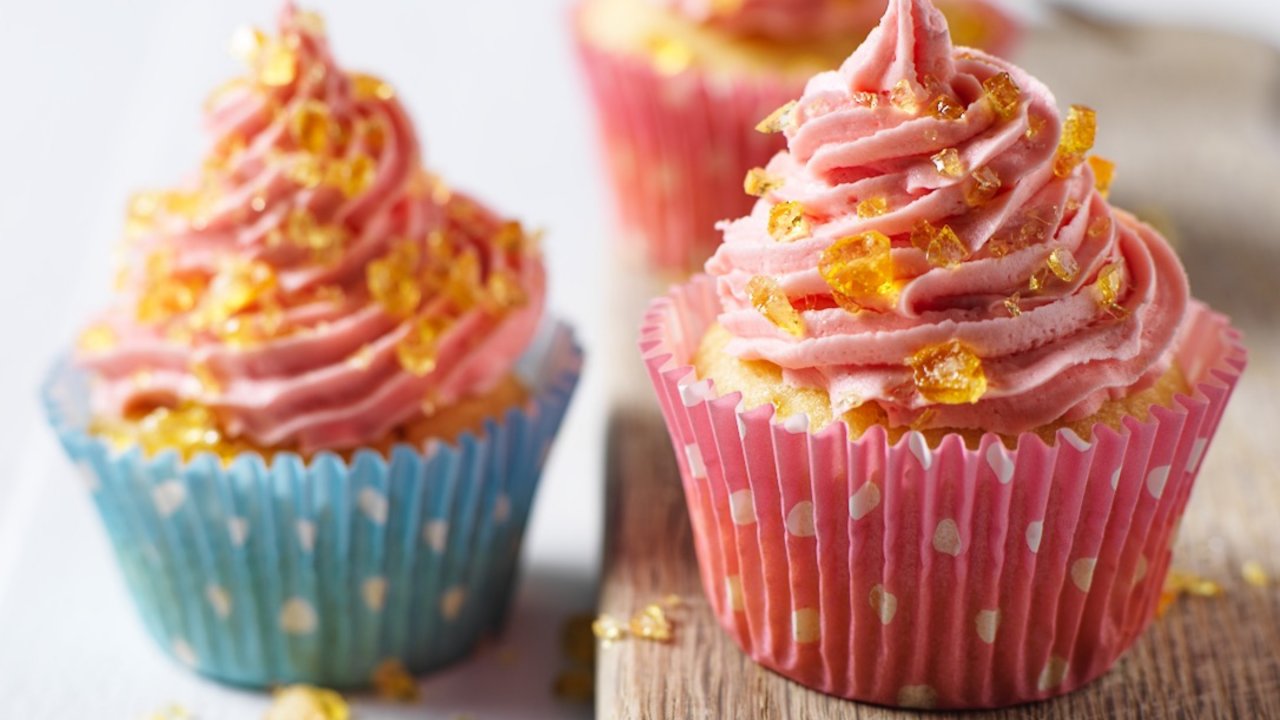 A soft, spongy vanilla cupcake is tasty on its own, but add some icing magic and top with crunchy toffee pieces and voila, you have cupcake perfection!
Follow our recipe to become King of Crunch.
Ingredients
For the cupcakes:
1 ½ tsp baking powder
1 pinch of salt
2 large eggs at room temperature
150g CSR Caster Sugar
75g butter
125ml milk
1 tbsp vanilla extract
1 tbsp vegetable or canola oil
For the icing:
250g unsalted butter room at temperature
500g CSR Soft Icing Mixture
1/4 tsp salt
1/4 cup lemon juice
4-6 drops blue food colouring
For the toffee:
1 cup CSR Caster Sugar
1/3 cup water
Method
Preheat the oven to 165°C fan forced and line a cupcake tin with cupcake cases.
In one large bowl, sift together flour, baking powder, salt and set aside.
In a small saucepan, melt the butter and also set aside.
In another bowl, mix the eggs, sugar and vanilla extract, then add the oil and milk.
Add the melted butter and and mix to combine, then add the flour, salt and baking powder.
Divide the cupcake mix into the 12 prepared cupcake tins and place in the oven on the middle shelf for 25 minutes. Set aside to cool.
To make the icing, sift icing sugar then add the butter, salt and lemon juice to a mixer and mix well until combined.
Add the food colouring one drop at a time until the desired colour is achieved.
When the cupcakes are cool and the icing is ready you can ice the cupcakes as desired.
For the finishing touch, the crushed toffee pieces, combine sugar and water in a pot on high heat.
With a pastry brush and 1/2 cup of water, wipe clean the inside of the pot to stop the crystallisation and stop the sides from getting too hot. Repeat anytime you see a build up.
Allow the mixture to reach a temperature of 150°C or remove from heat before your desired toffee colour is achieved (it will continue cooking for about 5 minutes, so allow for that).
Pour into a tray with lined with baking paper to cool.
Once cool and at room temperature, use the end of a wooden rolling pin to break the toffee up into small pieces, ready to garnish your iced cupcake. Voila!