Coconut Orange Bunny Ear Cake
Prep: 30 mins
Cook: 40 mins
Servings: -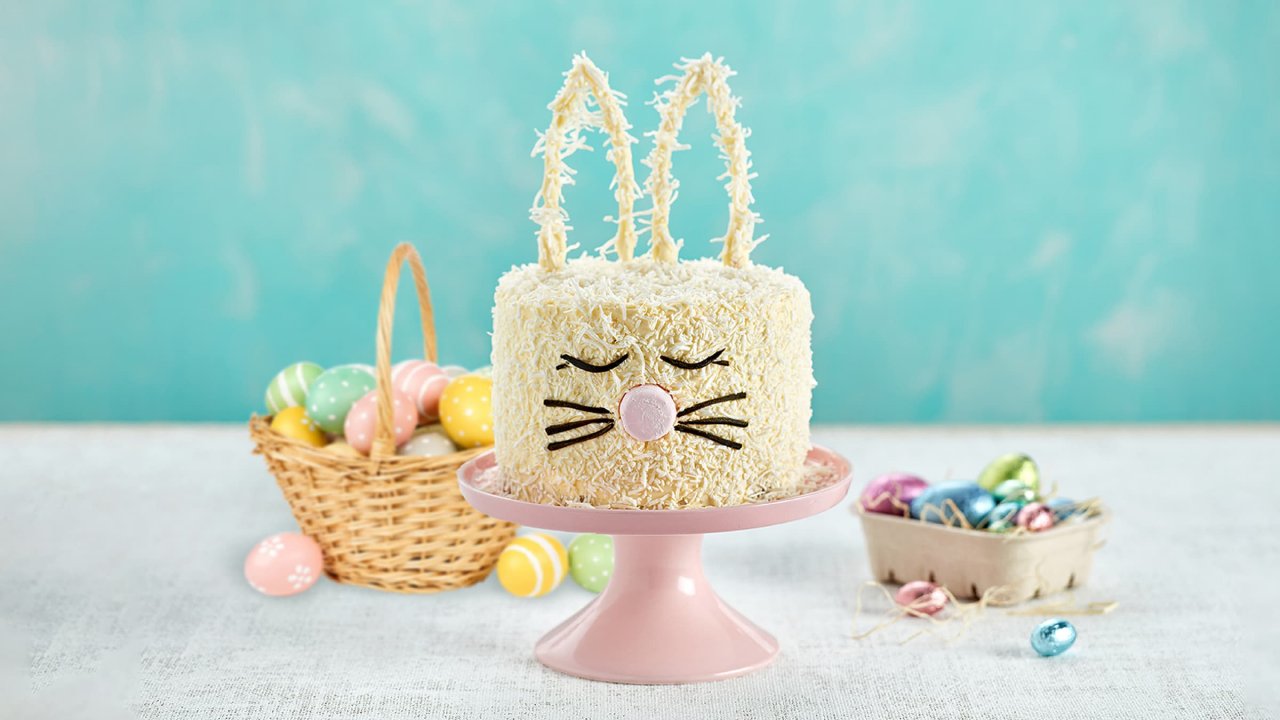 Hop to it and bake the adorable Coconut Orange Bunny Ear Cake for Easter.
With its white chocolate bunny ears, marshmallow nose and coconut "fur", this Coconut Orange Bunny Ear Cake is a delightful Easter treat.
Ingredients
Cakes:
250g butter, diced and softened
1 cup CSR Caster Sugar
4 extra-large eggs
2 tsp finely grated orange rind
1 ¾ cups White Wings self raising flour
½ cup desiccated coconut
½ cup milk
Decoration:
150g butter, diced and softened
250g pack of CSR Vanilla Buttercream Icing mixture
1 tbsp orange juice
100g white chocolate buttons, melted
1 cup shredded coconut
Liquorice and marshmallow, for decoration
Method
Pre-heat oven to 160°C fan-forced. Line the base and sides of 2 x 15cm cake tins.
Place butter and sugar into the bowl of an electric mixer. Beat until pale creamy. Add eggs one at a time until well incorporated. Add rind, mixing well.
Add flour, coconut and milk alternately until well combined and batter is smooth.
Pour batter between prepared tins and bake for 40 mins, or until an inserted skewer comes out clean. Cool in tin for 10 mins before removing to a cooling rack.
For icing, place butter in a large mixing bowl. Beat with electric beaters until soft and creamy. Gradually add icing mix and juice until mix is smooth.
Place melted white chocolate into a small piping bag with a fine tipped nozzle. Pipe chocolate onto baking paper lined tray in the outlines of two ears. Sprinkle with a little of the coconut and allow to set completely. Refrigerate if a hot day.
For assembly, place one cake onto serving plate, spoon a little icing on top and spread out. Top with second cake and use remaining icing to cover the two cakes. Sprinkle with shredded coconut. Gently press the ears into the top of the cake and use liquorice and marshmallow for facial features.