Christmas Choc Cupcakes with Peppermint Buttercream Icing
Prep: 50 mins
Cook: 20 mins
Servings: 12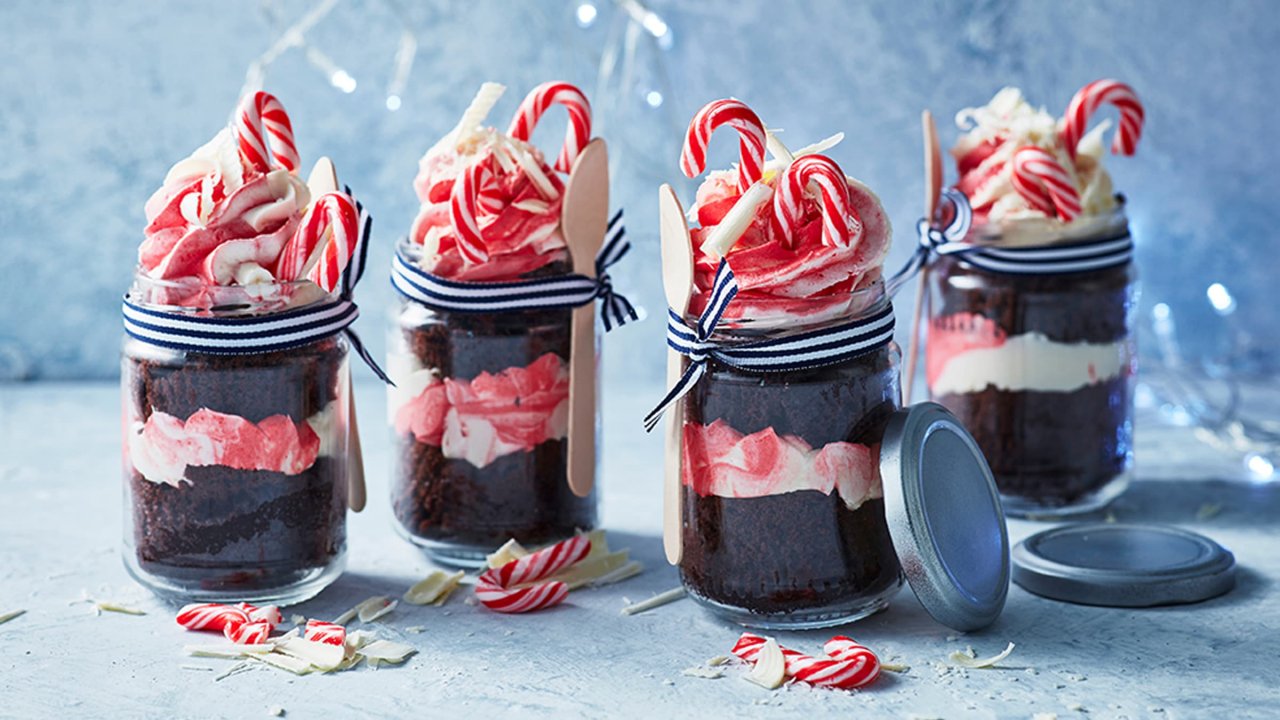 Chocolatey and delicious, these Choc Cupcakes with Peppermint Buttercream Icing are a great treat for sharing this festive season!
Ingredients
250ml milk
220g CSR Caster Sugar
200g milk chocolate
150g unsalted butter
75g Dutch-processed cocoa
1 ¼ tsp bicarb soda
165ml buttermilk
2 eggs, whisked
Mini Candy canes & White chocolate to decorate
Peppermint Buttercream:
375g softened unsalted butter
540g CSR Pure Icing Sugar
80ml buttermilk
2 tsp vanilla bean paste
1 tsp peppermint essence
Red food colouring, to tint
300ml tall, round jar & ribbon of your choice
Short on Time?
Method
Preheat oven to 180°C (160°C fan-forced). Line a 12-hole muffin pan
Melt milk, sugar, chocolate and butter in a saucepan, stir for 5 mins over low heat. Transfer to a large bowl, set aside for 10 mins to cool.
Sift in flour, cocoa, bicarb and whisk until smooth. Add buttermilk and egg to batter; gently whisk to combine.
Spoon batter into muffin pan and bake for 20 mins or until a skewer inserted into centre comes out clean.
Peppermint buttercream: beat butter and icing sugar in an electric mixer for 5-7 mins until fluffy. Add buttermilk, vanilla, and essence, beat until smooth. Divide two-thirds into a bowl and rest into another bowl. Tint smaller bowl with red food colouring. Spoon plain buttercream into a large piping bag fitted with a 2cm star nozzle. Spoon a small amount of red buttercream on top. Repeat layering until piping bag is full.
Cut cooled cupcakes in half to form two equal halves. Place two cupcake halves, top side down, in the bottom of each 300ml capacity round jar. Pipe a 1.5cm layer of buttercream over the cupcake layer. Repeating layering, finishing with buttercream. Decorate with mini candy canes, crushed candy cakes and white chocolate curls.