Chocolate Halloween Cupcakes
Prep: 15 mins
Cook: 30 mins
Servings: 12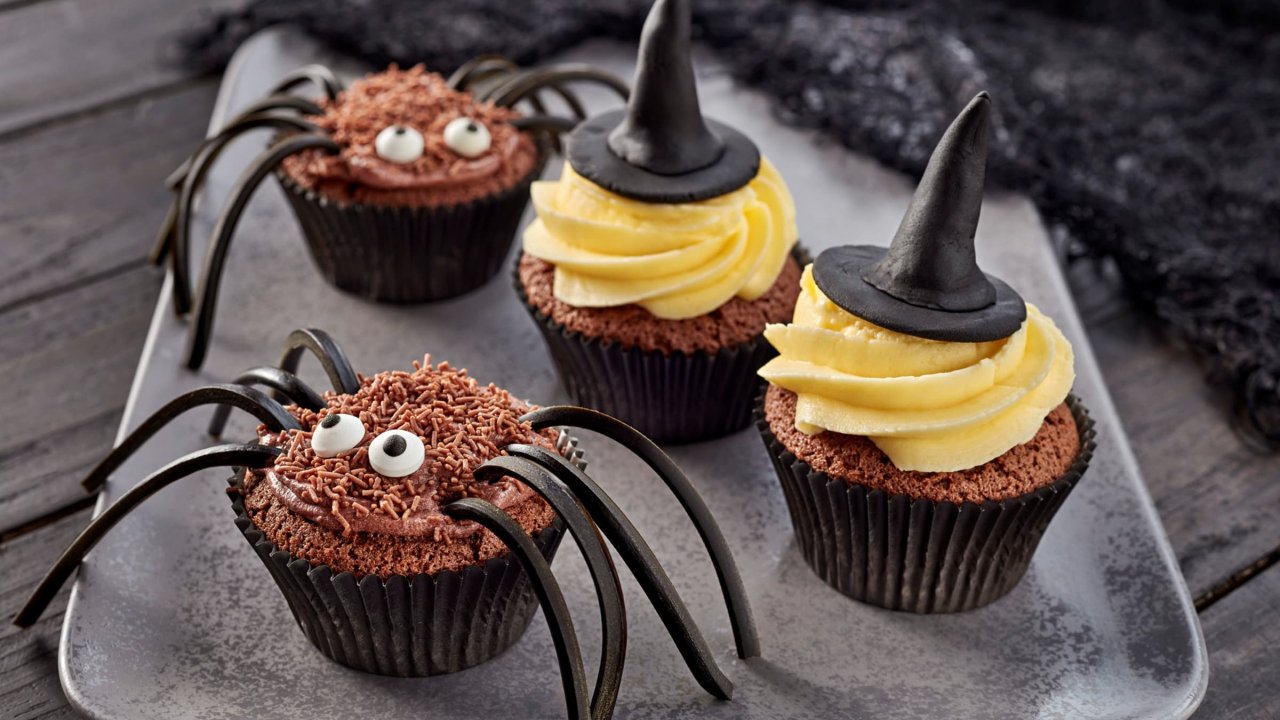 Make your own treats this spooky season with these Chocolate Halloween Cupcakes.
They're eeky and creepy and totally delicious! Perfect for trick or treating and Halloween parties, so get out that broomstick and start baking.
Ingredients
Cupcakes:
125g dark chocolate, chopped
1 cup water
125g butter, diced and softened
1¼ cups CSR Caster Sugar
3 extra large eggs
2 cups White Wings plain flour
1½ tsp baking powder
¼ cup cocoa
To Decorate:
150g butter, diced and softened
125g CSR Chocolate Buttercream Icing mixture
125g CSR Vanilla Buttercream Icing mixture
6 tsp water
Edible eyes
Liquorice strips
Black fondant icing
Method
Pre-heat oven to 150°C fan-forced. Place large cake cases into muffin pans.
Combine chocolate and water in a saucepan and heat gently until chocolate has melted. Allow to cool.
Place butter and sugar into the bowl of an electric mixer, beating until pale and creamy. Add eggs one at a time, mixing well between each addition.
Sift the flour, baking powder and cocoa. Gradually fold into the butter mixture until well combined. Add cooled chocolate mixture, beating until smooth. Spoon mixture between cake cases and bake for 30 mins. Remove to a cooling rack to cool completely.
For the buttercream icing, divide butter into 2 mixing bowls then beat each until soft and creamy. Gradually add vanilla icing mix and 3 tsp water until mix is smooth. Transfer to a piping bag with a round nozzle and pipe peaks on each cupcake. Repeat with chocolate buttercream icing mix. Decorate with edible eyes, liquorice strips and fondant icing shaped into witches hats.