Chocolate Buttercream Icing Layer Cake
Prep: 30 mins
Cook: 70 mins
Servings: 10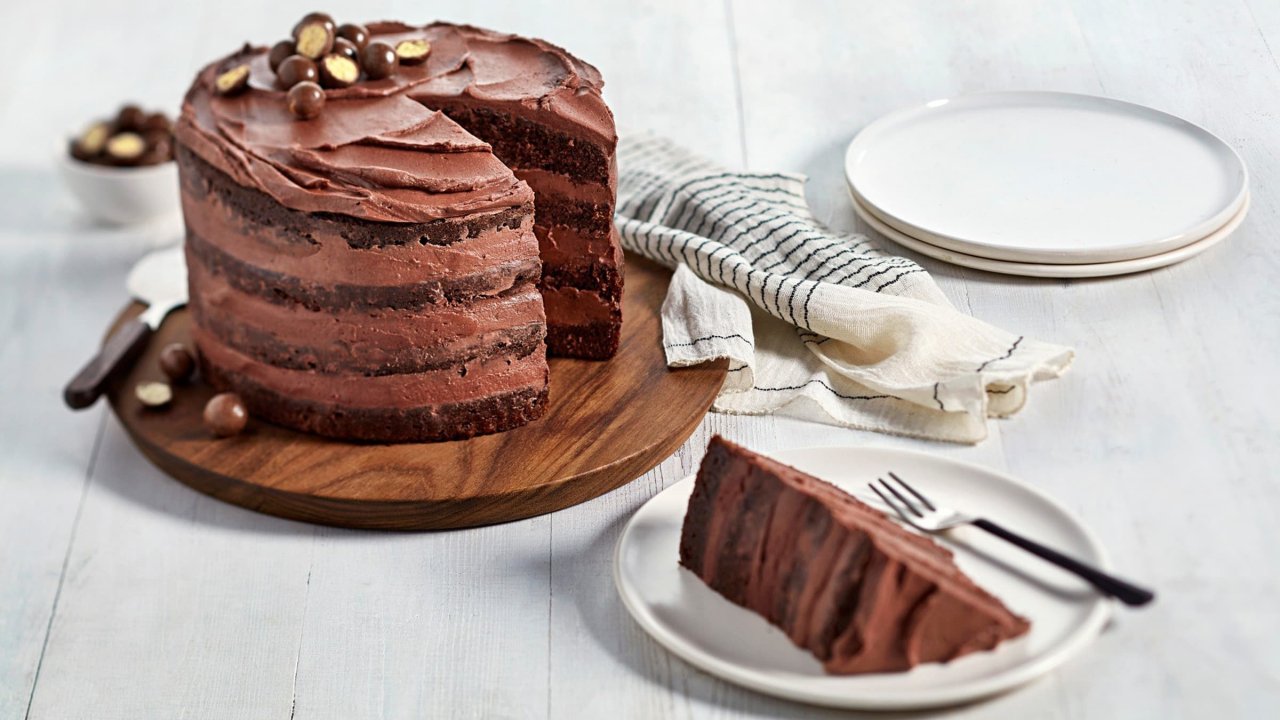 Treat yourself and your friends with our Chocolate Buttercream Icing Layer Cake.
This impressive looking Chocolate Layer Cake is made so easy with CSR Chocolate Buttercream Icing Mix.
The Icing Mix contains real Dutch cocoa and no artificial flavours so you can truly indulge without worrying about hidden nasty ingredients.
Ingredients
Cake:
3 cups plain flour
2 cups CSR White Sugar
½ cup cocoa
2 tsp bicarbonate soda
1 tsp salt
¾ cup sunflower or vegetable oil
2 tbs white vinegar
2 tsp vanilla essence
2 cups cold water
Buttercream Icing:
150g butter, softened
250g CSR Chocolate Buttercream Icing mixture
3 tsp water
Maltesers, to serve
Method
Preheat the oven to 160°C fan-forced. Grease and line the base of a 22cm or 23cm cake pan.
Sift the dry ingredients together into bowl and mix to combine. Make three deep wells in the mixture with the base of a measuring cup or spoon. Pour the oil into one well, vinegar into the second and vanilla into the third. Pour cold water over the top and stir well with a fork or whisk. Pour into the pan.
Bake for 70 mins, or until a skewer inserted into the centre of the cake come out clean with only some moist crumbs sticking to it. Allow to cool for 10 mins, then gently remove from the pan onto a cooking rack. Cool completely.
For the icing, using an electric mixer, beat softened unsalted butter until pale and fluffy. Gradually add buttercream icing mix and water, beating continuously for 3-5 mins.
To assemble, slice cake in half horizontally. Place bottom half on a plate and spoon chocolate buttercream icing on top. Repeat with another layer of cake and icing. Using a hot knife or spatula, smooth icing around the sides roughly to create a 'naked' look. Top with halved Maltesers.