Carrot Zucchini Blueberry Muffins
Prep: 15 mins
Cook: 15 mins
Servings: 12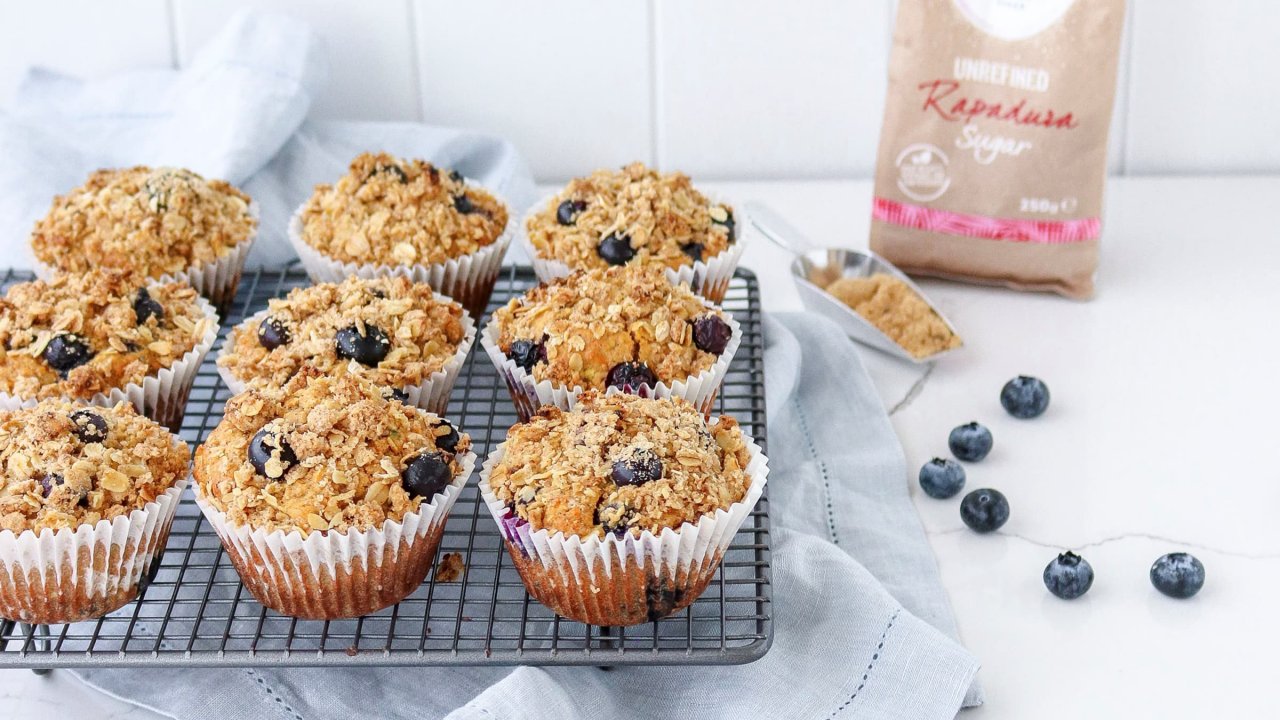 Keep the kids fueled with goodness with these Carrot Zucchini Blueberry Muffins. Create by My Lovely Little Lunch Box, this lunchbox treat ticks all the boxes with unrefined rapadura sugar, hidden vegetables and kid approved flavour. Make a batch of Carrot Zucchini Blueberry Muffins on a Sunday afternoon with the kids and pack in lunchboxes for the week ahead.
Ingredients
Muffins:
½ cup (125g) butter
2 eggs
1 cup (250ml) buttermilk
1 tbs vanilla bean paste or vanilla extract
⅓ cup (65g) CSR Rapadura Sugar
1 carrot, grated
1 zucchini, grated
2 cups (300g) White Wings Wholemeal (whole wheat) Flour
2 tsp baking powder
1 tsp ground cinnamon
1 cup (100g) blueberries (fresh or frozen)
Oat Crumble Topping:
½ cup (45g) traditional rolled oats
¼ cup (40g) White Wings Wholemeal Flour
2 tbs CSR Low GI Sugar
½ tsp baking powder
2 tbs butter
½ tsp ground cinnamon
Method
Preheat oven to 170°C and line a 12-hole muffin tin with papers. Set aside.
Pop butter into a small saucepan. Place over medium heat and cook until golden and foaming. Approx. 3-4 mins. The butter will smell gorgeously nutty. Set aside to cool.
For the crumble top, place the oats, wholemeal flour, low GI cane sugar, baking powder, butter and cinnamon into a small bowl. Use your fingertips to mix and rub the butter into the flour mixture until it resembles wet sand. Set aside.
For the muffins, place the cooled brown butter, eggs, buttermilk, vanilla, rapadura sugar, grated carrot and zucchini into a large bowl and whisk to combine.
Add wholemeal flour, baking powder, cinnamon and blueberries and stir to combine.
Evenly divide the mixture between the prepared tray. Top each muffin with a heaped tablespoon of the crumble mixture. Bake for 10-12 mins or until golden and when a skewer inserted removes cleanly.