Caramel Mud Cake
Prep: 160 mins
Cook: 170 mins
Servings: 16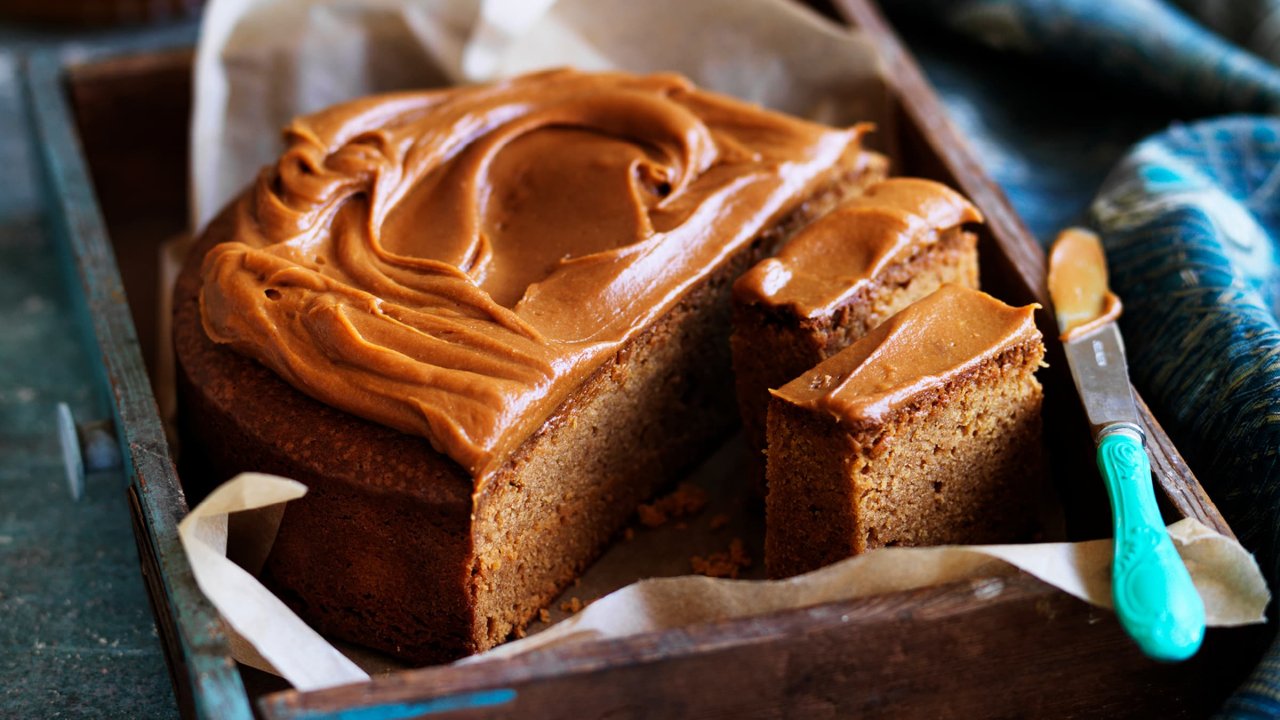 This mouth-watering Caramel Mud Cake is every caramel lovers dream! With a hint of butterscotch schnapps and a caramelised white chocolate ganache, it is the ultimate Caramel Mud Cake.
Ingredients
Mud Cake:
395g canned sweetened condensed milk
250g unsalted butter, chopped
1 cup (220g) firmly packed CSR Dark Brown Sugar
¼ teaspoon sea salt flakes
¼ cup (60ml) butterscotch schnapps
1½ cups (225g) White Wings Plain Flour
½ cup (75g) White Wings Self-Raising Flour
2 eggs
Caramelised White Chocolate Ganache:
300g white chocolate, chopped finely
½ cup (125ml) pouring cream
Method
Begin with making the caramelised white chocolate ganache. Preheat oven to 160°C. Scatter chocolate evenly over base of a shallow baking dish; bake for 20 minutes, stirring twice or until caramel in colour. Transfer to a large bowl.
Bring cream almost to the boil in a small saucepan; whisk in chocolate until almost smooth. Strain mixture through a fine sieve, pushing down on solids; discard solids. Cover; refrigerate for 30 minutes, stirring occasionally, or until ganache is of a spreadable consistency.
Preheat oven to 220°C.
Pour condensed milk into a 2-litre ceramic ovenproof dish. Cover dish with foil; crush excess foil upwards. Place ceramic dish in a larger baking dish; add enough boiling water to come halfway up side of the ceramic dish. Bake for 1 hour.
Stir mixture; cover, bake a further 30 minutes or until a golden caramel colour, adding extra boiling water to baking dish as needed to maintain water level during baking. Whisk caramel until smooth. Cover; cool to room temperature.
Reduce oven to 160°C. Grease a deep 20cm round cake pan; line base and side with baking paper.
Stir butter, sugar and salt in a medium saucepan over low heat, without boiling, until smooth. Add caramel and schnapps; whisk until smooth. Transfer mixture to a large bowl; cool for 15 minutes. Whisk in sifted flours, then eggs; pour into pan.
Bake cake for 1 hour. Cover pan loosely with foil; bake another 1 hour or until a skewer inserted into the centre comes out clean. Stand cake in pan for 15 minutes before turning, top-side up, onto a wire rack to cool.
Place cake on a plate; spread top with ganache.
Tip:
Butterscotch schnapps is available from liquor stores and adds quite a significant butterscotch flavour to this cake. Although it has a slightly different flavour, you can use Irish cream instead. The caramel and caramelised white chocolate ganache can be made a day ahead; store in an airtight container in the fridge. Bring to room temperature before assembling cake.