Candy Cane Pinwheels
Prep: Prep & Cook: 1 hour (+ refrigeration & standing)
Cook: Prep & Cook: 1 hour (+ refrigeration & standing)
Servings: 30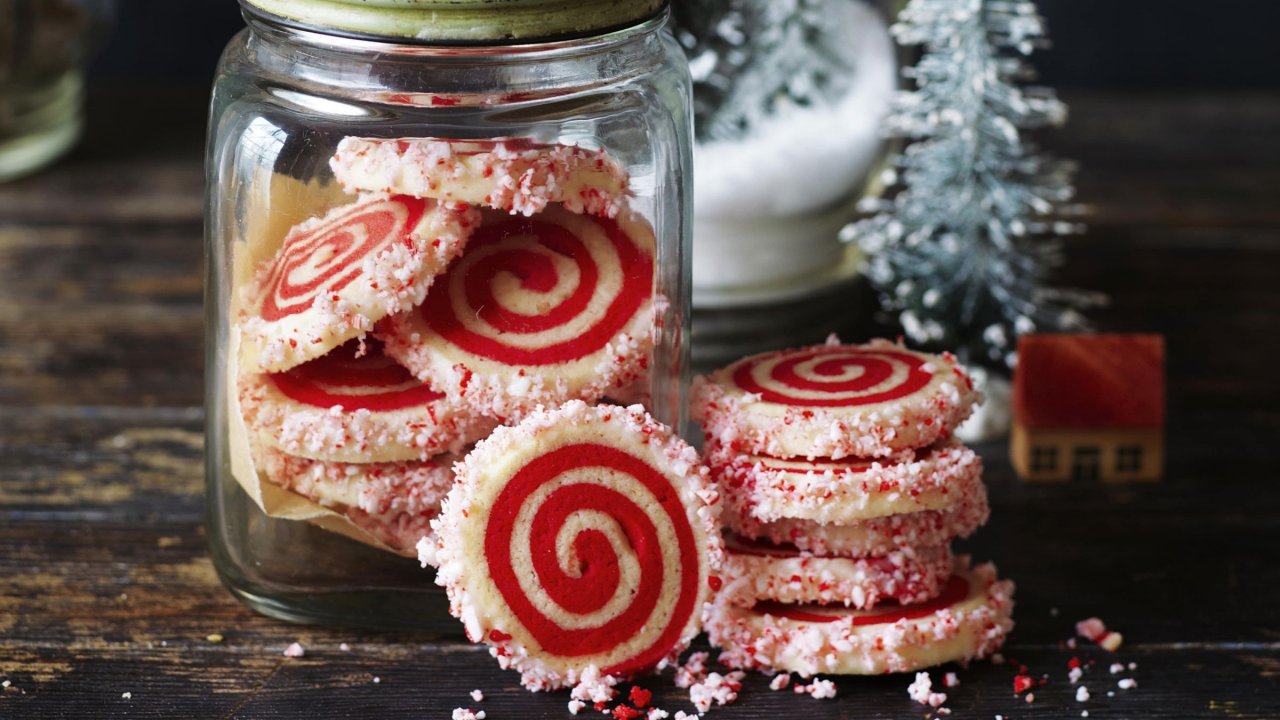 These Candy Cane Pinwheels are the perfect festive gift on the run up to Christmas Day! Make a batch and split them into jars for a few lucky friends and family.
Ingredients
150g (4½ ounces) butter, softened
¾ cup (165g) CSR Caster Sugar
1 egg
1½ cups (225g) White Wings Plain Flour
red food colouring (see notes)
½ cup (80g) CSR Pure Icing Sugar
2½ teaspoons water
100g (3 ounces) peppermint candy canes, chopped finely (see notes)
Method
Beat butter and sugar in a small bowl with an electric mixer until pale and creamy. Add egg, beat until just combined. Add sifted flour; stir to combine.
Gently knead on a lightly floured surface until smooth. Divide dough in half. Tint one half red. Shape dough halves into separate discs; wrap in plastic wrap. Refrigerate for 15 minutes.
Preheat oven to 180°C/350°F. Grease an oven tray; line with baking paper.
Roll each dough half between sheets of baking paper into a 20cm x 30cm (8-inch x 12-inch) rectangle; remove top sheet of baking paper.
With one long side of the dough facing you, place the red dough on top of the plain dough, leaving a 1cm (½-inch) border on the long side closest to you; starting at this end, and using paper as a guide, roll dough to form a log. Wrap with plastic wrap; refrigerate for 30 minutes or until firm.
Using a small sharp knife, cut log into 1cm (½-inch) thick slices; place on oven tray.
Bake for 10 minutes or until lightly golden and a pinwheel can be pushed gently without breaking. Cool pinwheels on trays.
Mix sifted icing sugar and the water in a small bowl to form a smooth paste. Place the candy cane on a small plate. Spread a little icing around the edge of a biscuit, then roll edge in candy cane; repeat with remaining biscuits. Stand biscuits until set.
Uniced biscuits will keep in an airtight container for up to 1 week; decorated biscuits will keep for up to 3 days.

You can use any colour you like to tint the dough; choose a matching lolly, or coloured sugar, to coat the pinwheel edges.