Apple Pie Slice
Prep: 60 mins
Cook: 45 mins
Servings: 8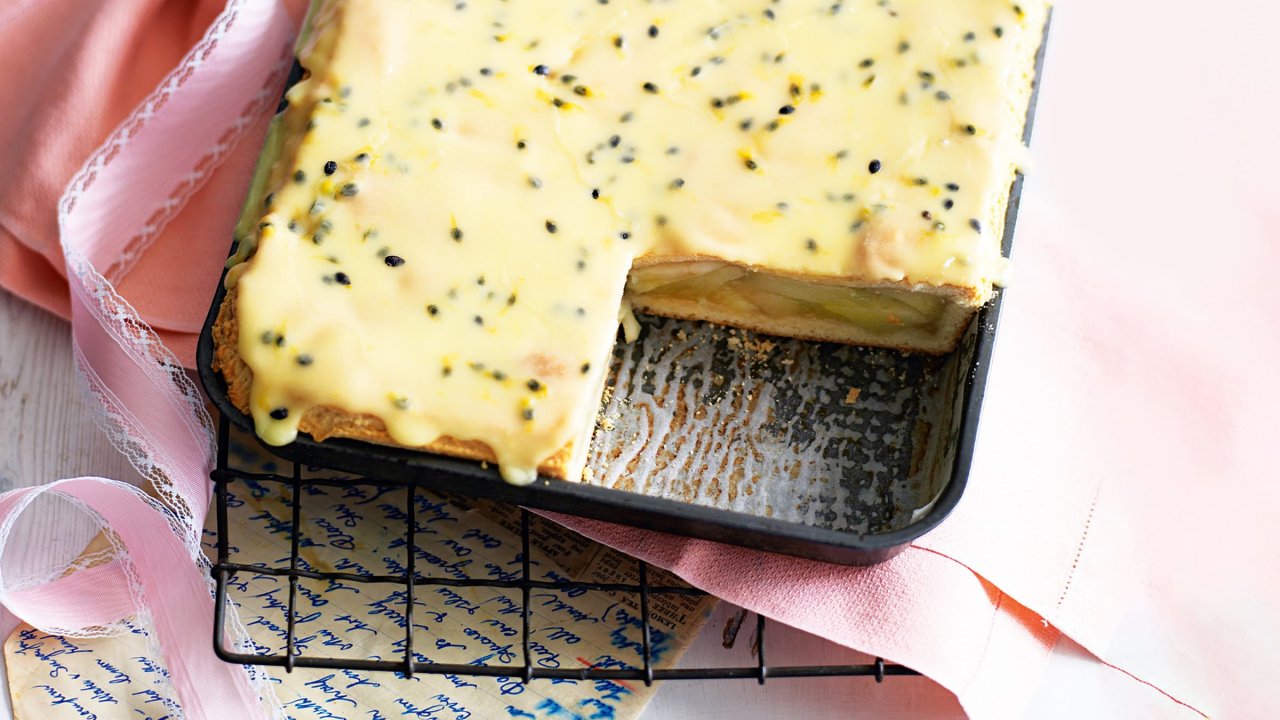 This traditional Apple Pie Slice recipe has a sweet twist to it. Topped with a passionfruit icing this Apple Pie Slice is sure to have everyone wanting seconds.
Ingredients
Pastry:
3 cups (450g) White Wings Self-Raising Flour
¼ cup (40g) CSR Soft Icing Mixture
125g cold butter, chopped coarsely
1 egg, beaten lightly
½ cup (125ml) milk
Filling:
8 medium apples (1.5kg)
2/3 cup (150g) CSR Caster Sugar
½ cup (125ml) water
2 tablespoons CSR White Sugar
Passionfruit Icing:
1½ cups (240g) CSR Soft Icing Mixture
¼ cup (60ml) passionfruit pulp - approx. 2 passionfruit
Method
Peel, quarter and core apples; slice thickly. Place apples, caster sugar and the water in a large saucepan; cover, bring to the boil. Reduce heat; simmer for 10 minutes or until apples are just tender. Gently turn apple mixture into a large colander or strainer to drain; cool to room temperature.
Preheat oven to 200°C. Grease 20cm x 30cm rectangular pan; line base and long sides with baking paper, extending the paper 5cm over sides.
To make the pastry, sift flour and icing sugar into a large bowl; rub in butter. Make a well in centre. Using a knife, "cut" combined egg and enough milk through flour mixture to make a soft dough.
Roll two-thirds of the pastry on a floured surface until large enough to line base and sides of pan, with 1cm extending over the sides. Lift pastry into pan. Spread cooled apple mixture into pastry case; brush edges with a little extra milk. Roll out remaining pastry until large enough to generously cover pie. Place over filling; press edges together to seal. Trim excess pastry around edges. Brush top with a little milk; sprinkle with white sugar. Slash about six holes in pastry.
Bake pie slice for 45 minutes. Stand in pan 10 minutes; turn, top-side up, onto a wire rack to cool.
While the pie slice is baking, make the passionfruit icing. Sift icing sugar into a medium heatproof bowl, stir in enough of the passionfruit pulp to make a thick paste. Place bowl over saucepan of simmering water; stir icing until spreadable.
Spread icing over pastry; serve slice cut into squares.